Whose Day is it this Tuesday?!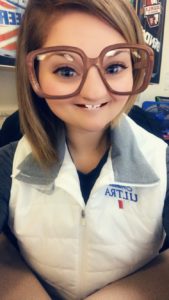 It's Brianna Ihrke's day for Whose Day Tuesday!
Let's learn some fun facts about Brianna!
*When did you start at Schott Distributing?
August 2015
*What is your job title? And describe in 3 words
Graphic Technician AKA Sign Maker
*What is your favorite part of you job?
Designing beer menus
*What is your go-to beer and why?
Alaskan Amber for it's smooth flavor or Goose Island IPA because it's awesome.
*What is your favorite thing to do when not at work?
Cooking
*Who would you most like to swap places with for the day? Famous or not
Aaron Kelley because he has an awesome team leader
*If you could visit anywhere in the world you've never been, where would you go?
Ireland
*What's in your coffee?
Depends on the day. Sometimes black, and sometimes with some flavored cream.
*What is your favorite food?
Sushi
+You can find Brianna being a modern day Picasso in our sign shop but you can find her artwork on display at many of our accounts(bars!)
-For those of you who do not know, Troy Peterson is AK's team leader and he in no way influenced Brianna's answer-
Cheers Brianna!