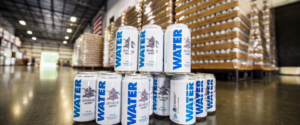 Nation's Leading Brewer Pauses Beer Production to Replenish Emergency Water Stocks Following 2018 Natural Disasters
CARTERSVILLE, GA – October 22, 2018 – Anheuser-Busch's Cartersville Brewery is today pausing beer production to can emergency drinking water, after high demand for clean, safe drinking water following the California Wildfires and Hurricanes Florence and Michael exhausted existing stocks.
"Recent donations to disaster relief efforts have depleted our inventory of emergency drinking water. We need to be ready to help next time the Red Cross requests our assistance," said Bill Bradley, Vice President, Community Affairs at Anheuser-Busch. "We've made a commitment to be there for American communities in times of need, and we are following through on that promise."
Throughout the year, the Cartersville, Georgia brewery schedules periodic pauses of beer production to can drinking water. The water is staged locally, ready to be shipped at a moment's notice once the brewer receives a request from its longstanding partner, the American Red Cross. At the request of the Red Cross, A-B has provided over 800,000 cans – or 16 truckloads – of emergency drinking water so far in 2018, prompting today's unscheduled run to replenish stocks.
This past September, Anheuser-Busch introduced the water canning capability to its Fort Collins, CO brewery doubling its production capacity and enabling the brewer to more quickly help communities in need from coast to coast
"This program is made possible by our employees at the Cartersville and Fort Collins Breweries, and our wholesaler partners who never hesitate to go the extra mile when American communities are facing difficult times," Bradley continued.
For the past 30 years, Anheuser-Busch has partnered with the American Red Cross to provide emergency drinking water for disaster relief efforts. Since 1988, Anheuser-Busch and its wholesaler partners have provided nearly 80 million cans of water to U.S. communities affected by natural disasters nationwide.
To learn more about Anheuser-Busch's disaster relief efforts, please visit https://www.anheuser-busch.com/betterworld/community.html.
ABOUT ANHEUSER-BUSCH
For more than 165 years, Anheuser-Busch has been woven into the cultural fabric of the United States, carrying on a legacy of brewing great-tasting, high-quality beers that have satisfied beer drinkers for generations. Today, we own and operate 23 breweries, 29 distributorships and 23 agricultural and packaging facilities, and have more than 18,000 colleagues across the United States. We are home to several of America's most recognizable beer brands, including Budweiser, Bud Light, Michelob ULTRA and Stella Artois, as well as a number of regional brands that provide beer drinkers with a choice of the best-tasting craft beers in the industry.
From responsible drinking programs and emergency drinking water donations to industry-leading sustainability efforts, we are guided by our unwavering commitment to supporting the communities we call home.
For more information, visit www.anheuserbusch.com or follow Anheuser-Busch on LinkedIn, Twitter, Facebook and Instagram.